Delaware Legal Poker 2023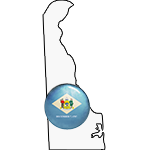 Ready to play online poker? Delaware has your back. Along with Nevada and New Jersey, the tiny eastern state of Delaware is the only US state to offer fully legal and regulated online poker.
Delaware may be nicknamed "The First State," but it was actually the second state to pass gaming regulation for Internet play. Today, legal poker sites in Delaware are now open for you to enjoy from within state lines.
Joining the party in late 2013, Delaware was just ahead of New Jersey in offering legit poker on the web, and currently allows several legal poker websites to operate. And like New Jersey, Delaware residents are not limited to online poker; they can play classic casino games as well.