Top Texas Hold'em Strategy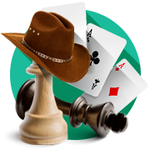 Being a good US Texas Hold'em player isn't just a case of blindly bashing the "Raise" button on your laptop and hoping the other players at the table fold.
Online poker takes months – even years - of dedication to master, but even the most basic grasp of Texas Hold'em strategy will get you off on the right foot and likely get you winning more cash.
While there have been countless books and websites dedicated to top poker strategy, a run-through of our common Texas Hold'em tips guide can only serve you well. And when you're done, why not check out of one of the great legal US poker sites we at LegalPokerc.om have recommended here, and put your new strategies to the test!
Track your opponents
Get a handle on position and pot odds
Review your Texas Hold'em hands
Never stop learning!