A History of US Poker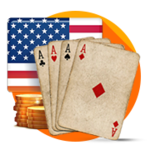 If you thought the history of poker in the United States began with a few $10 Sit 'n' Gos on a computer monitor in a bedroom somewhere in Nevada, California or New Jersey, think again.
While online poker has certainly provided the US with the greatest gambling revolution ever seen, the game itself has been part of the country's psyche since early French settlers brought over the game of 'Poque'.
The name became Anglicized and the game stuck, and soon poker became a national pastime in backrooms and saloons from San Francisco to Atlantic City. However, it wasn't until the gambling Meccas of Reno and Las Vegas embraced the game – brought there by the legendary 20th Century road gamblers – that Texas Hold'em, 5-card Draw and Omaha entered a wider consciousness.