Florida Legal Poker 2023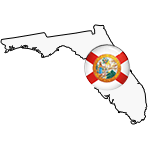 Poker is big business in Florida, with dozens of great land-based casinos and cardrooms, and a long tradition of legal gambling.
When it comes to online gaming, however, things get a little hazier. In 2023, there is no law regulating - or specifically outlawing - online poker to residents of the Sunshine State. That makes the whole online poker FL legal landscape kind of strange.
Having no regulatory law in place governing poker on the web doesn't mean Floridians can't enjoy great games online, though, and there are plenty of legal poker sites in Florida residents can play.