Legal US Mobile Poker Sites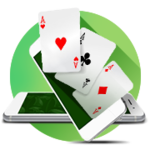 If you thought mobile phones were for Angry Birds, checking up on your Facebook pals, and fooling around on YouTube, think again.
In 2023, Americans can enjoy top legal poker mobile games right on their portable devices. That's right - you can now fire up a table of Texas Hold'em on your touch-screen iPad, iPhone or Android and win real cash legally.
But hunting out the best legal US mobile poker sites is a little harder than you think. So, switch on your phone, turn off Angry Birds and get crushing right now, because at LegalPoker.com we've done the hard work for you:
Top Texas Hold'em card game options for iPhone or Android
Great software and native apps for smartphones and tablets
The best legal poker US mobile deposit bonuses