Nevada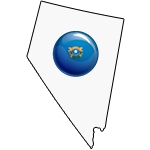 It's no surprise that of all the American states, the epicenter of gambling, Nevada, was the first to pass an online poker law.
American residents of NV can, in 2023, enjoy great regulated Internet poker rooms and play for real money wherever they are - as long as they remain within the Silver State's borders. From Las Vegas to Jackpot (yes, that's a city), go ahead and ante up at legal poker sites in Nevada.
Nevada's first legit online poker room appeared in 2013, and three networks currently offer real-money US currency cash games and tournaments on the web; and online poker Nevada players will be happy to know that more will surely appear over the coming years.
As of December 2023, unlike New Jersey - where roulette and blackjack is available online as well - only poker can be played by NV residents on the web. However, we are staking an even-money bet on other gambling games being offered in time.