Top 10 Online Poker Tips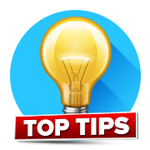 If you thought being successful at online poker was a matter of firing up the laptop, loading up a few NLHE cash tables, closing your eyes and blindly hitting the "RAISE" button, think again (although, admittedly, it's worked out fine for some professionals over time).
Successful online poker takes dedication, hard work, a lot of mindless grinding (but a lot of fun, too) and, of course, a few dollars in your bankroll.
Online poker needn't be a total grind, so here are 10 top tips to get you started.