Legal US Poker Rooms FAQ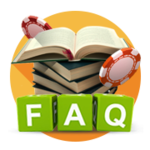 By now you should have a good idea about what you want from a top legal poker site in America. Hopefully, we have spelled out all the good stuff (bonuses, customer support, fishy sites, playing on your smartphone or Mac) and the bad stuff to avoid (crummy cash-out times, sites with no players, terrible software).
But to wrap it all up in one handy bundle, here is a quick FAQ which should answer some of your most common queries. Happy hunting on those online legit US poker tables, and let's all end up just a little bit richer!