Maryland Poker Legal 2023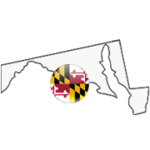 A healthy live poker and gaming scene, proposals to expand current casinos, and a neighboring state which has recently regulated online poker itself: everything seems to be pointing toward Maryland passing pro-poker legislation soon. The online poker MD scene is already thriving, but a state-regulated one could make things more interesting.
Maryland's neighbor Delaware has already forged ahead with regulated online poker of its own, and state lawmakers may not want to continue siphoning off business to go over the border. In the next few months, legal poker sites in Maryland could become the norm.
For now, though, online poker Maryland law remains in that strange gray you seem to find across the US: neither illegal nor outright legit. But in 2023 there are still plenty of legal poker sites Maryland residents can play at for real money.