Virginia Legal Poker 2023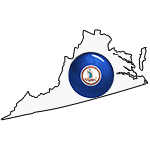 Thinking about anteing up to play some online poker? Virginia is one of 11 states in the US which doesn't have any legal Indian casinos - or any casino at all, for that matter.Play live poker is hard, but going all in at online poker VA sites is easier than you think. More on that in a second.
Gambling on games of chance is illegal in Virginia, but for poker players, the picture is a little fuzzier.
The presence of land-based casinos is seen as perhaps the essential precursor to future online legislation. Thus, without any brick-and-mortar properties, we may not see Internet gaming laws pass in VA any time soon.
Despite no concrete moves being made toward legal poker sites in Virginia, that doesn't mean Americans living in the Old Dominion State can't enjoy real-money games online. There are plenty of legal poker sites in Virginia to choose from. Read on for the whole story.