Georgia Legal Poker 2023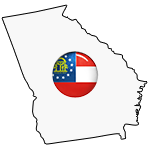 As with many states in the USA, Georgia has some pretty harsh anti-gambling laws on the statute books, but has so far failed to keep up with the Internet revolution. For state regulators, the words "online poker Georgia" don't exactly go together.
That means, as of September 2023, there is nothing in the state's law that specifically bans the playing of online poker. So go ahead and play at legal poker sites in Georgia. It's perfectly cool.
But with many states now forging ahead with Internet legislation of their own, could Georgia be joining them? Let's look at how close - or far - the Peach State is from having legal, regulated online poker.