Easiest Online Poker Sites 2023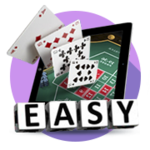 Who wants to play poker online in the US against really tough players? No one, that's who.
We're like you - we want to come up against the bad poker players on the web; the ones who are so terrible they don't know their pot odds from their +EV, their pocket rockets from their marginal calls, or their 5-bet re-shoves from their tight folds.
Hunting out the best legal online easiest poker rooms is essential for a happy Internet poker life. And our great LegalPoker.com guide features the very best the net can offer.
Find top rooms online with weak players
Lots of low-stakes games full of novices and fish
Activate the best 100 percent welcome bonuses