Washington Legal Poker 2023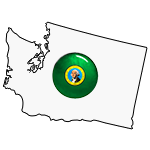 Finding legal poker sites in Washington isn't the same as finding them in other parts of the Union. While some states in the USA have pushed on with regulation, and many sit on the fence, Washington lawmakers have made their feelings very clear.
Washington is one of the few US states that has banned online poker WA websites outright. Under a new amendment made in 2006, it became a Class C felony to gamble online within state borders. In 2010, many US sites stopped taking real-money poker deposits from players in the Evergreen State.
Specifically, state policy recommends that, "it is the policy of this state to prohibit all forms and means of gambling, except where carefully and specifically authorized and regulated." Clearly, the online poker WA legal landscape is way less favorable to poker players than other states.
However, private - or "social'"- poker games fall under current state law and it is hoped that Washington will reconsider its position on online poker Washington websites in time. For now, state residents must play at any of the great legal poker rooms on the web that are unregulated. Risk of arrest is a possibility, although as yet, no one has been prosecuted for playing online poker in the Evergreen State.